Groupon - toronto
Carpet Cleaning at Carpet Master (Up to 70% Off). Three Options Available.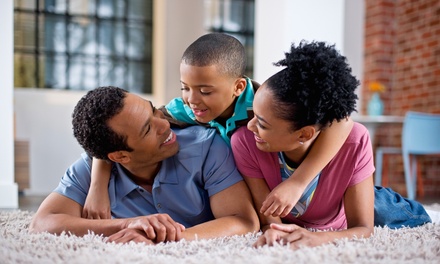 Price: $39.00
Value: $130.00
Saved: $91.00
Discount: 70%
Deal went live: Jan 20 2016
Time Remaining:
Details
Choose from Three Options
C$39 for one carpet cleaning for three rooms and one hallway for up to 500 square feet (C$130 value)
C$52 for one upholstery cleaning for one 3seat sofa and love seat (C$150 value)
C$90 for one carpet cleaning for three rooms plus hallway and upholstery cleaning for sofa and love seat (C$280 value)
Scotchgard: Indoor Puddle Prevention

Learn more about Scotchgard&8217;s microscopic superpowers with Groupon&8217;s exploration.

If each of the threads of a carpet were a tree trunk in the rainforest, Scotchgard would be the dense canopy of leaves connecting them all overhead and protecting everything below. This invisible barrier is made up of fluorocarbon molecules that form a surfactant. Basic surfactants greatly lower the surface tension of liquids (causing them to break into beads rather than puddle), and the addition of fluorine can further lower a liquids surface tension by more than 50% while also repelling oil and grease. Scotchgards fluorinated force field can rebuff the molecules and subtle flattery of spilled juice and nacho cheese for up to one year.

Appropriately enough for a substance designed to handle chance spills, the invention of Scotchgard and its billiondollar industry was itself an accident. Patsy Sherman, one of only a handful of female chemists employed by a major corporation in the 1950s, was developing a new form of rubber for jet fuel lines for 3M when one of her lab assistants spilled a few drops of synthetic latex on his tennis shoes. Sherman and her colleague Sam Smith realized that, although the spill wouldnt wash out of the shoe, it also wouldnt absorb any new stains. 3M began selling the formula as Scotchgard in 1956, and Shermans ingenuity was rewarded with an induction into the Minnesota Inventors Hall of Fame and a lifetime of party guests just testing her invention by spilling red wine on her carpets.